- Home -
- Who We Are -
- Celtic Myths -
- Ritual Basics -
- The Sabbats -
- The Esbats -
- Magick -
- Elements -
- Herb Lore -
- Crystal Lore -
- Meditation -
- Divination -
- Astrology -
- Reading Lists -
- Wicca 101 -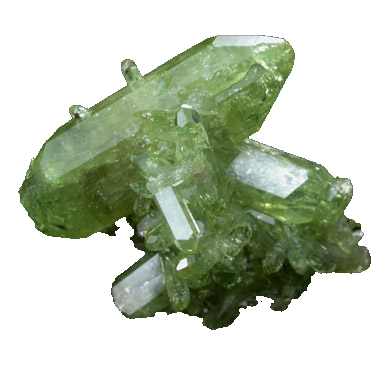 Crystals play roles in many spells and rituals, and witches value them for their versatility. Generally speaking, larger crystals are more powerful — as well as more rare and expensive — than smaller ones, but that's not always the case. When choosing crystals, allow yourself to be drawn by the stones instead of simply picking them for their size or beauty. If you listen carefully, you might even hear them speak to you. Because crystals amplify the energies of other stones, witches often use them in talismans and amulets where they increase the power of the charm. When placed on an altar in the company of other stones, or when combined with other gems on a magick tool, crystals unify and strengthen the various stones' vibrations.

FLUORITE
G/P/E: Male/?/?
Magical attributes: Mental Powers
Uses: Considered a good luck piece. Also called Faery Gem. Manifests innermost wishes. Promotes well being; enhances concentration and meditation. Powerful spirit guide. Opens and softens the way for the use of other stones. Excellent used in aquariums-provides needed minerals. Charge on windowsill at night. --Varies in different shades of purples and greens. Identified by the bands of color seen within the stone.
---
GARNET
G/P/E: Male/Mars/Fire & Water
Magical attributes: Healing, Protection and Strength.
Uses: Wards off inflammatory diseases, promotes healthy and cheery disposition. Balances hormones, good for mental depression, enhances self-esteem, alleviates bad dreams, and encourages success in business. Thought to assist in seeing into past incarnations. Will ensure consistency in friendship and love, preserve health, and is generally fortunate. Vitality and passion. Stimulates happiness, peace, balance, patience, inspiration, persistence, good for rebirth, menstruation and life passages, disorders, fertility, eases arthritis pain.
---
HEMATITE
G/P/E: Male/Saturn/Fire
Magical attributes: Healing, Grounding, Divination and Protection.
Uses: Very strong stone; absorbs negativity. Gives optimism and courage. Calming to the emotions. Worn as an amulet confer strength and procure favorable legal judgments. In Egypt, used to reduce inflammation and treat hysteria. Considered to be a grounding stone. Helps maintain balance between body, mind, and spirit. Use for fevers, alleviates worry and anxiety as it allows for mental clarity, known as the "worry stone".
---
HERKIMER
G/P/E:
Magical attributes: .
Uses: Balancing special variety of quartz crystal. "Diamond" works with yin/yang energies, known as the "Dream Crystal", aids in bringing teachings of the dream state into conscious awareness, very highly attuned spiritually.

HYACINTH
G/P/E:
Magical attributes:
Uses: Renders the wearer extremely fascinating and strengthens the heart. Used for melancholy.
---
IOLITE
G/P/E: Female/Neptune/Water
Magical attributes: Balance and Direction.
Uses: Astral work and mental health.
---
JADE
G/P/E: Female/Venus/Water
Magical attributes: Love, Healing, Longevity, Wisdom and Protection.
Uses: A most sacred stone and a symbol of divine revelation. Brings good fortune and health to its owner. Stimulates practicality, wisdom, and universal attunement. Thought to provide a link between the spiritual and the mundane. Most revered by the Chinese.
---
JASPER
G/P/E: Male/Mars/Fire
Magical attributes: Protection, Healing and Purification.
Uses: Safeguard personal independence, said to bring inspirational warnings when there is danger of unfair domination from others. Balance emotions and stress. Aid and comfort during periods of female distress. One stone worn about the neck and another around the waist.

LAPIS LAZULI
G/P/E: Female/Venus, Jupiter & Pluto/Water
Magical attributes: Healing, Joy, Love, Fidelity, Protection, Truth and Wealth.
Uses: Prized for its prophetic virtues. Stimulates wisdom, truthfulness, & psychic experiences, healing and strengthening when worn next to the skin. Strengthens mind and body to spiritual awareness.
---
LEOPARDITE
G/P/E: Female/Jupiter & Neptune/Water
Magical attributes: Peace, Spirituality, Luck, Protection and Anti-nightmare.
Uses: Powerful Healing an excellent stone when used in uncrossing or hex removal it should be worn or carried 24 hours a day from Full moon to New Moon and then in the darkness of the new moon buried or thrown in a river.
---
LODESTONE (Magnatite)
G/P/E: Female/Saturn/Water
Magical attributes: Protection, Success and improved memory.
Uses: Fantastic in money magick when kept in your purse it will help draw wealth. Also used as a pendulum in divination.